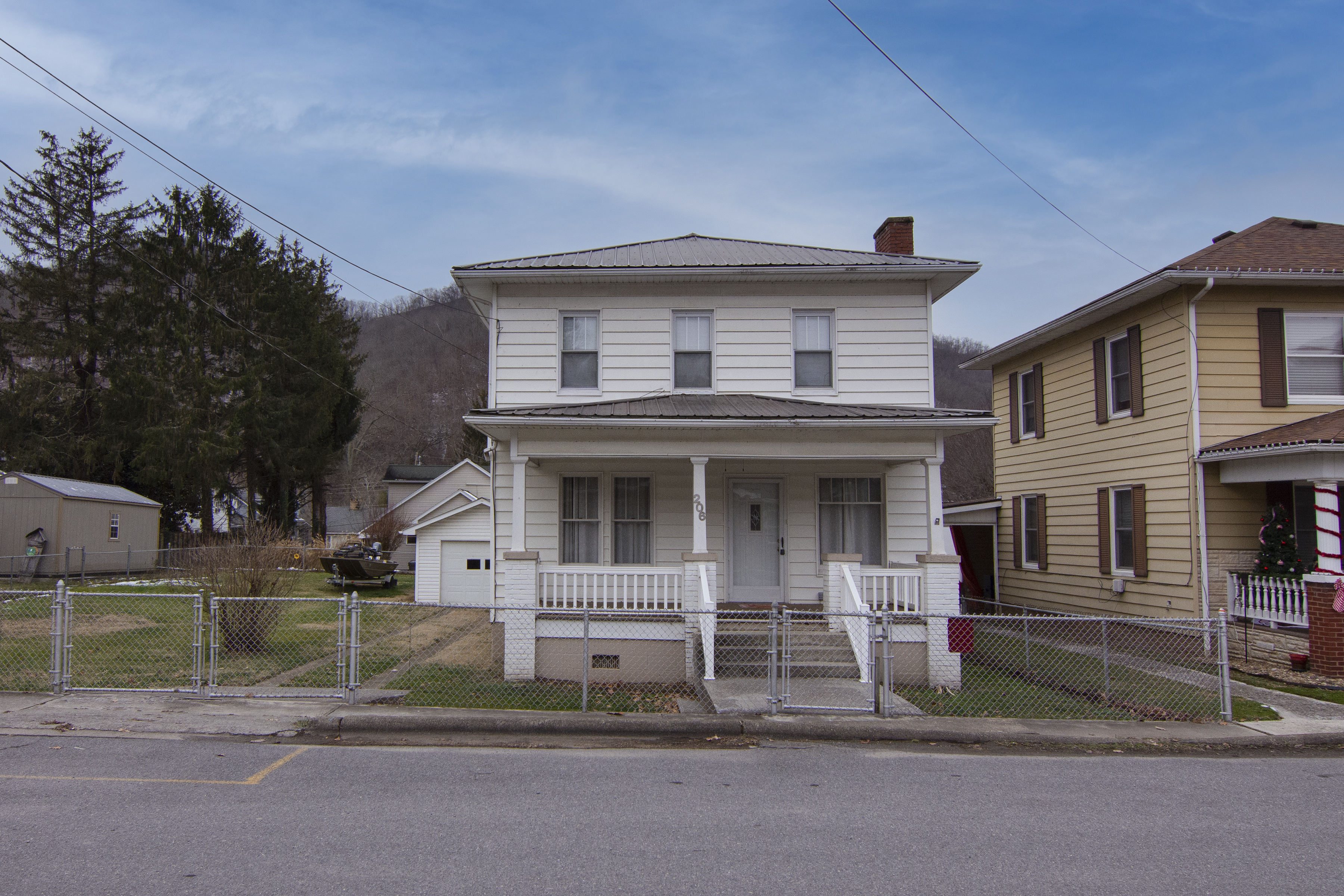 Price:

$195,000

ID:

906

Acres:

0.189 +/-

Address:

206 Miller Avenue, Hinton WV
Agent Contact:
Kristi Scott, 304-890-4807

MAPS & DOCUMENTS-CLICK LINKS TO VIEW
OVERVIEW
This quality built home is located in the friendly, quiet community of Bellepoint in Hinton WV. The charming Bellepoint community is quiet and peaceful. Residents there walk and ride bikes around the "loop" that winds through the park and alongside the "Mighty New River".  Well known for front porch visiting with neighbors and friends.
This home was built in 1925 when homes were built to last and built with quality materials.  Recently refinished hardwood floors are present throughout the house on main floor and second floor, tile flooring only in kitchen and bathroom and utility room, linoleum in second bathroom.  Beautiful oak woodworking on stairway from the living room makes for a cozy entrance.  Old fireplaces in living room and master bedroom add some historic charm.
206 Miller has 3 bedrooms and 2 full baths with a bedroom and bath on main floor.  Kitchen and breakfast nook and dining room and living room on main floor with 1 bathroom and 1 bedroom and also a back room that could be used as an utility room and move washer and dryer from the basement to the main floor.  Upstairs is a large bathroom with antique tub and a large foyer for an office space or sitting area, plus 2 large bedrooms and an extra room perfect for a nursery, office or a large walk in closet.  The basement has had walls removed to open up the area large enough for a man cave and houses the washer and dryer.
Bonuses for this home include 3 lots so there is a nice large lot with fencing around the yard, great for a garden or your pets.  A detached single car garage with a large hot tub and a "she-shed" perfect for crafts or storage. Another nice feature is the large covered front porch ready for that porch swing for visiting with friends and neighbors or reading your favorite book.
This home sits in a wonderful neighborhood and is within walking distance to the Greenbrier River and the New River. Easy access for fishing, kayaking or canoeing and swimming.  Also walking distance to Bellepointe Park for little league games and a large playground and picnic areas located on the New River.
ATTRIBUTES AND HIGHLIGHTS
3 bedrooms/2 bathroom
hardwood floors/beautiful woodwork
quality built home, move in ready
large front porch
metal roof
detached single car garage with hot tub
off street parking
fenced in huge lot, plenty of room for a garden and pets
additional "she shed" building
great neighborhood
walking distance to the New River, the Greenbrier River, and Bellepoint Park
easy access to the rivers for fishing, swimming, kayaking and canoeing
excellent cell phone coverage  and internet available
located in Hinton area the "gateway" to the New River Gorge National Park
Summers ARH Hospital, shopping and restaurants nearby
close to 2000 acre Bluestone Lake and 2 State Parks: Bluestone State Park and Pipestem State Park, and Sandstone Falls 15 minutes away located in the New River Gorge National Park
Winterplace Ski Resort is only a 45 minutes scenic drive away
very quiet, light traffic and a very scenic area with Bald Eagles, Blue Herons and an amazing array of other wildlife frequently seen around our rivers and lake.
LOCATION
Google Coordinates: 37.648976°(N), -80.882513°(W)
Address: 206 Miller Ave, Hinton, WV 25951
Elevation: 1370 ft. +/-
HOME AND OUTBUILDINGS
Highlights
Detached insulated single car garage with hot tub
Extra outdoor storage building
Actually 3 lots and fenced in yard
Home Room Dimensions
First Floor
Living Room 11'x 13'6"
Dining Room 11'x 12'4"
Kitchen 11'x 15'8"
Bedroom  1 (main floor) 10'11"x 10'11"
Bathroom 1 ( main floor) 5'2" x 5'10"
Extra room (possible utility room) 12'9"x 5'8"
Second Floor
Bedroom 2(old fireplace) 14'6"x 13'5"
Bedroom 3 15' x 10'10"
Bathroom 2   7'4"x 7'4"
Extra room upstairs (possible nursery or walk in closet) 9'8" x 7'5"
Upstairs foyer/office area or sitting room 10'3" x 7'6"
Front Porch 20' x 7'8"
Basement 22'4" x 28'4"
Total Living Space = 1237 sq ft,  Basement 633 sq ft
Garage and Outbuilding Dimensions
Garage  19'3" x 13'2"
Outbuilding 13'6"x 13'6"
MINERAL RESOURCES
West Virginia is one of the states in the US that has two separate ownership titles; those being SURFACE RIGHTS and MINERAL RIGHTS. The mineral rights are believed to be intact and all rights the owner has will convey with the property. A mineral title search could be conducted by a title attorney at the same time when the surface title search is being conducted.
BOUNDARIES AND SURVEY
Property sold by the boundary, 3 lots total. Fenced in property
ACCESS/FRONTAGE
Fronting on four season, maintained paved Miller Avenue
UTILITIES
Water: Public WV American Water Company
Sewer: Public  City of Hinton Sanitation Board
Electricity: Mon Power
Telephone: Landline Suddenlink or Frontier
Internet: Suddenlink, Frontier
Cellphone Coverage: Excellent
ZONING
Summers County currently has no known zoning or subdivision regulations. However, all prospective buyers should consult the City and  County Government and also the Health Department for any changes and details regarding zoning, building codes, and installation of water wells and septic systems.
PROPERTY TYPE/USE SUMMARY
Serves as a personal residence
WATER
This property is within walking distance to the New River and the Greenbrier River and is a 5 minute drive to the Bluestone Lake.
DEED AND TAX INFORMATION
Deed Information: DB 269 Pg. 392
Summers County, West Virginia
Acreage: 0.189 acre +/-
Real Estate Tax ID/Acreage/Taxes:
Summers County (45), West Virginia
Hinton Corp (4)
Tax Map 10 Parcel 130; Class 2
2021 Total Real Estate Taxes: $600.16
PUBLIC SCHOOLS
Summers County School District
Public Elementary School:
Hinton Area Elementary School
Public Middle School:
Summers County Middle School
Public High School:
Summers County High School
College:
Concord University (nearby in Mercer County)
SURROUNDING AREA
Hinton is the Summers County Seat and the economic and governmental hub of the county. The county's total population is about 14,000.  Hinton has grocery stores, restaurants, banks, auto parts stores, hardware and feed supply stores, hospital, dentists and most other small town amenities.
This easy living home is in located in the quiet community of Bellepoint,  and is within a short drive of higher population areas of Blacksburg, Charleston, Beckley, Princeton and Lewisburg.
Charleston is West Virginia's state capitol and is an easy 90 minute drive. Charleston is West Virginia's largest city with a population of some 50,000 and a metro area of 225,000. It is the center of government, commerce, culture and industry. There is a commercial airport with daily flights to most major hubs.
Beckley is a 30 minute drive, has a population of 34,000, and is the county seat of Raleigh County. All amenities are available in Beckley. Beckley is located at the intersection of I-77, I-64 and US 19 so easy access to Charlotte, Pittsburgh, Charleston and Cincinnati is just around the corner.
The surrounding area offers unlimited recreational activities including white water rafting, golfing, fishing, camping, hiking, bird watching, rock climbing and snow skiing
Located in the charming community of Bellepoint, in Hinton, WV
5 minutes to the 80,000 acre New River Gorge National Park and the 2,000 acre Bluestone Lake and Bluestone State Park. The Pipestem Resort , Sandstone Falls, Winterplace Ski Resort, the 4-Star Greenbrier Resort and numerous golf courses are an hour or less drive.
A picturesque Amtrak train ride from Hinton connects the area to DC, Philadelphia, New York, Chicago, and many other locations.
Washington, DC is 5 hours away and Charlotte only 3.
The Charleston Airport, Beckley Airport and Lewisburg Airport all offer jet service to major hubs.
Charleston, the state capitol, is 1.5 hours' drive and offers all large city amenities.
Easy access to I-64, I-77, I-79, US 460, US 19
The Bechtel Summit Reserve, the12,000 acre Boy Scouts of America's high adventure camp nearby in Glen Jean.
The 14,000 acre Wildlife Management Area is nearby at Bull Falls.
Historic Summers County
Hinton, the county seat of Summers County is a 5-minute drive. Hinton, founded in 1871, grew rapidly as the hub of a growing railroad industry serving the New River coal fields, passenger travel and coast to coast freight lines. Today, Hinton serves the growing tourist and technology industries.
Summers County (2014 population—13,417) is located in the southeastern region of West Virginia, scenically placed between the beautiful Greenbrier and New River Valleys. The City of Hinton (2013 population—2,588) serves as the county seat and is the sole municipality within Summers County. The railroad boom of the early 20th century helped to build Hinton and Summers County. However, the county's current economy is based primarily on tourism thanks to the Bluestone Dam and Lake along with the Bluestone, Greenbrier, and New Rivers which converge in Hinton. Further, the New River Gorge National River begins at Hinton and flows northward into neighboring Fayette County.
Summers County is also home to Bluestone State Park, Pipestem Resort, and a number of other facilities that provide lodging, camping, and a variety of recreational activities. The Hinton Railroad Museum, the Graham House, the Campbell Flanagan Murrell House, and other museums provide glimpses into the county's history. The architecture of buildings in Hinton's nationally-registered historic district is of interest to many. A solid core of retail stores and professional service providers meet the needs of residents and visitors alike.
Residents of Summers County enjoy a wonderful small town, laid back quality of life. Service clubs such as the Kiwanis, Lions, Rotary, and Ruritans support a number of community initiatives, school programs, and special events. The Summers County Library supports the county school system and provides visitors with Internet access and other services. Several denominations of churches meet the Summers County community's spiritual needs.
Summers County is served east-west by Interstate 64 and by north and south connections to Interstate 77. The New River Parkway, when completed, will improve access to Sandstone Falls by upgrading River Road from I-64 near Exit 139 Sandstone into Hinton. West Virginia Routes 3, 12, 19, 20, and 107 are the primary highways within the county. Amtrak also provides an important transportation link to Summers County with its Cardinal line from New York to Washington DC to Chicago. Stops are made three times per week to pick up and disembark passengers at Hinton's historic Rail Depot.
The Summers County Appalachian Regional Hospital provides a fully-staffed emergency room and a variety of medical services. Summers County Emergency Services provides ambulance service. Law enforcement is provided by the Summers County Sheriff's Department, a detachment of the West Virginia State Police, the City of Hinton's Police Department and park rangers with the US Army Corps of Engineers, the National Park Service, and the West Virginia Department of Natural Resources. Similarly, the City of Hinton has a new fully-manned and equipped fire station complemented by six other volunteer fire departments throughout the county.
Historic Greenbrier County
Lewisburg, (45-minute drive), which is the Greenbrier County seat, was voted the Coolest Small Town in America, combining the warmth of a close community with the sophistication of more urban locations. The thriving downtown historic district offers year-round live productions presented at the State Professional Theatre of WV, Carnegie Hall, distinctive dining venues, antique shops, award-winning galleries/boutiques, a year-round farmer's markets. Greenbrier Valley Medical Center is a modern hospital and all attendant medical facilities, along with the many big box stores.
The county and city host several fairs & festivals throughout the year including The WV State Fair, a professional 4-weekend Renaissance Festival, Chocolate Festival, Taste of our Town Festival (TOOT), antique car shows, Jeep Rally's, Airstream Rally, WV Barn Hunt Competition, PGA Tour @The Greenbrier, Lewisburg is also home to the modern Robert. C Byrd Medical Clinic (300 employees), the WV Osteopathic Medical School (600 students) and the New River Community and Technical College. The area is a strong economic generator with a solid workforce employed in county/state government, tourism, hospitality, medical, education, retail, construction, wood products, mining and agriculture.
The world-renowned Greenbrier Resort, with 800 rooms and 1600 employees, is located in the sleepy little town of White Sulphur Springs. The 4-Star resort has a subterranean casino and is home to the PGA tour, NFL Summer Practice Event, Tennis Exhibitions (Venus Williams, John McEnroe etc.). Several other area golf courses are available in the area – including Oakhurst Links, America's first golf course, where guests play using old style hickory-handled clubs and ground-burrowing golf balls.
A picturesque Amtrak train ride from Hinton connects the area to DC, Philadelphia, Chicago, and many other locations. By car, DC is 5 hours away and Charlotte is only 3.
Within a two-hour's drive are located some of the finest recreational facilities in West Virginia. Winterplace Ski Resort, whitewater rafting / fishing on the New River and Gauley River, 2000-acre Bluestone Lake, Pipestem State Park and Resort and the 80,000-acre New River National Gorge National Park. Five other area state parks and state forests offer unlimited hiking, horseback riding, ATV riding and rock climbing opportunities. Snowshoe Ski Resort is 90-minute drive through some of the most scenic country on the East Coast. The new 12,000-acre Boy Scout High Adventure Camp and home to the US and World Jamboree is an hour's drive.
THE GREENBRIER RIVER
The lower Greenbrier River possesses the excitement of life on one of the nation's great wild rivers. The focus of a vast outdoor-recreation destination, it flows untamed out of the lofty Alleghenies, attracting anglers, paddlers, and naturalists from across the globe.
At 172 miles long, the Greenbrier drains over 1.5 million acres and is the longest undammed river left in the Eastern United States. It is primarily used for recreational pursuits and well known for its fishing, canoeing, kayaking and floating opportunities. Its upper reaches flow through the Monongahela National Forest, and it is paralleled for 77 miles by the Greenbrier River Trail, a rail trail which runs between the communities of Cass and North Caldwell.
It has always been a valuable water route, with the majority of the important cities in the watershed being established river ports. The river gives the receiving waters of the New River an estimated 30% of its water volume. Over three-fourths of the watershed is an extensive karstic (cavern system), which supports fine trout fishing, cave exploration and recreation. Many important festivals and public events are held along the river throughout the watershed.
The Greenbrier is formed at Durbin in northern Pocahontas County by the confluence of the East Fork Greenbrier River and the West Fork Greenbrier River, both of which are short streams rising at elevations exceeding 3,300 feet and flowing for their entire lengths in northern Pocahontas County. From Durbin the Greenbrier flows generally south-southwest through Pocahontas, Greenbrier and Summers Counties, past several communities including Cass, Marlinton, Hillsboro, Ronceverte, Fort Spring, Alderson, and Hinton, where it flows into the New River.
Along most of its course, the Greenbrier accommodated the celebrated Indian warpath known as the Seneca Trail (Great Indian Warpath). From the vicinity of present-day White Sulphur Springs the Trail followed Anthony's Creek down to the Greenbrier near the present Pocahontas-Greenbrier County line. It then ascended the River to the vicinity of Hillsboro and Droop Mountain and made its way through present Pocahontas County by way of future Marlinton, Indian Draft Run, and Edray.
THE NEW RIVER AND BLUESTONE LAKE
206 Miller Avenue is 5 minutes to the New River, 80,000 acre New River Gorge National River Park & Preserve and the 2000 acre Bluestone Lake at Hinton. The New River is the second oldest river in the world, preceded only by the Nile; it is the oldest river in North America. The New River is unique because it begins in Blowing Rock, N.C. and flows north through Virginia into West Virginia. The Nile and Amazon are the only other major rivers that also flow north. Year after year, it produces more citation fish than any other warm water river in WV. Smallmouth bass, largemouth bass, crappie, catfish, sunfish, hybrid striped bass, and muskie are all common species of fish found in the New River and Bluestone Lake.
The New River Gorge National River is now our newest 63rd National Park and Hinton sits near the beginning of this park area on the  beautiful,  rugged,  adventurous river home to white water rafters/kayakers and fisherman.  This new designation will create a 7,021-acre park around the heart of the gorge, which is already developed with trailheads and a visitor center, while the remaining 65,165 acres will be designated a national preserve to allow for backcountry hunting.
Bluestone Lake is over 2000 acres at summer pool and is the state's third largest body of water. Great hunting and fishing opportunities abound at the 17,632-acre Bluestone Wildlife Area adjacent to the park and nearby Camp Creek State Forest. The historic Bluestone Dam began operation as a flood control structure in 1949. The Bluestone Lake has the largest drainage area and flood storage of any dam in WV. Extending over 10 miles up the New River.  This dam has prevented approximately 1.6 billion in flood damages since 1949.  Bluestone Lake and Bluestone Dam attract over 1.3 million visitors annually. The Bluestone Lake Wildlife Management area is one  of the most popular public hunting and fishing areas in the state.
DIRECTIONS
Off RT 3 (Greenbrier Drive) coming from Hinton toward Talcott just past Exxon Gas Station will see Miller Avenue on your right. Turn right here onto Miller Avenue and house is a few hundred feet on the right. Will see Foxfire sign.