MUDDY CREEK FIELD & FOREST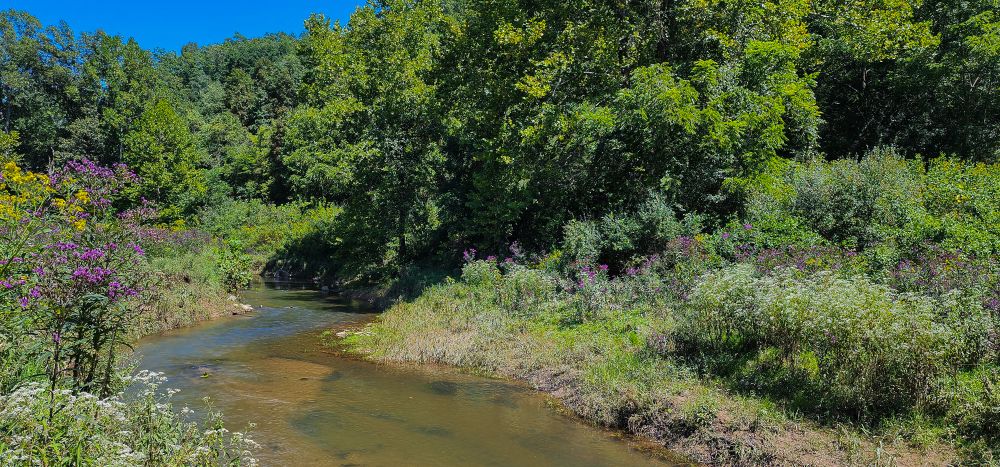 Price:

$455,000

ID:

968

Acres:

107 +/-

Address:
Agent Contact:
Bill Zimmerman, 304-667-7026

MAPS & DOCUMENTS-CLICK LINKS TO VIEW
The 107-acre Muddy Creek Field & Forest is one of Greenbrier County's most scenic and secluded farms.  The scenic, cultural, and historic values  provide not only economic benefits, but also quality of life values.
OVERVIEW
The 107-acre Muddy Creek Field and Forest is one of Greenbrier's County's most beautiful and secluded properties. This exceptional property, just minutes to Lewisburg, has deep, sweet soils that produce excellent cool season grasses or row crops.
Primary economic outputs include beef production grazing on seasonal grasses, but wildlife values are also a major economic consideration for the farm.  Environmental values are extensive and provide many essential ecosystem services, such as clean water, wildlife, and recreation opportunities.  Scenic, cultural and historic values of the farm provide not only economic benefits, but also quality of life values.
HIGHLIGHTS
One of Greenbrier County's oldest farms located in the heart of the Blue Sulphur Springs Valley
107-acres consists of about 27 acres fields and 80 acres of woodlands
Dynamic and free flowing Muddy Creek borders the northern boundary of the farm for about 1/2 mile and runs through the property for 1/4 mile
Some commercially valuable timber ready for harvest and immediate cash flow
All mineral rights in title will convey
Part of a recent survey on file showing 179.62 acres
Rich and diverse resident wildlife population
Minutes to historic Lewisburg, jet airport, interstates
Dynamic forest with some old growth trees estimated to be 200-300 years old
Patches of emerging forests and old fields intertwine with the farmland creating an exciting recreational property
Farm and forest roads wind through the property providing superior access
Located near the historic Blue Sulphur Springs
Surrounded by large farms and timber tracts in a nice rural neighborhood
Superior access by state maintained paved roads – FedEx, UPS and USPS delivery
Cell phone coverage is excellent in most areas with 4G service
Darkest of skies with little light pollution for star-planet gazing & astrophotography
Sedges, rushes, ferns, songbirds, frogs, turtles, & crawdads populate the wetlands & bogs
Abandoned fields could be cleaned up and a brought back into agricultural production
Located in peaceful Greenbrier County just 20 minutes to Lewisburg, the county seat
Timber species include beautiful oaks, black walnut, poplar, sycamore, maple and hickories
Fur bearing – deer, black bear, squirrel, rabbit, bobcat, raccoon, fox, chipmunk, opossum
Winged wildlife – eagles, hawks, owls, ravens, turkeys and Neotropical songbirds
Hay & Pasture grasses coupled with the forest produce life-giving Oxygen and are a sequester of carbon dioxide
Spectacular long-range views approaching 40 miles
Perfect for recreational activities including shooting sports, ATV riding, horseback riding, hiking, camping, hunting and nature viewing
Low taxes, low population density
Scenic, cultural, and historic values of the property provide not only economic benefits, but also quality of life values
LOCATION
Google Coordinates: 37.820400°(N), -80.603960°(W)
Address: 2484 Spring Valley Road, Asbury, WV 24916
Elevation Range: 1643 ft. to 1863 ft. +/-
10 minutes to I-64 and the beginning of Lewisburg shopping areas
20 minutes to Lewisburg
25 minutes to Greenbrier Valley Airport, Lewisburg, WV
30 minutes to The Greenbrier Resort and White Sulphur Springs
45 minutes to Beckley
1 hour 45 minutes to Roanoke, VA Airport
25 minutes to Greenbrier State Forest, Harts Run, WV
35 minutes to New River Gorge National Park and Preserve, Sandstone
45 minutes to Bluestone Lake, Hinton
50 minutes to Beartown State Park
50 minutes to Droop Mountain Battlefield State Park
50 minutes to Babcock State Park
1 hour 15 minutes to New River Gorge Bridge, Fayetteville
1 hour 15 minutes to Summersville Lake, Summersville
1 hour 30 minutes to Lake Moomaw, Virginia
MUDDY CREEK
NORTHERN BOUNDARY – Delightfully, Muddy Creek makes up the southern boundary of the farm for 1/2 mile, and runs through the property for about 1/4 mile. This winding – mostly lazy blue-line stream flows year-round. Muddy Creek takes its name when the creeks' normal blue-green waters turn light tan after a rain event. The tan color is a result of the fine silt picked up in the rain water runoff and deposited in the creek.
About Silt : Silt is granular material of a size between sand and clay, whose mineral origin is quartz and feldspar. Silt may occur as a soil (often mixed with sand or clay) or as sediment mixed in suspension with water (also known as a suspended load) and soil in a body of water such as Muddy Creek and the downstream Greenbrier River.
20 MILE WINDING JOURNEY – Muddy Creek is a tributary of the Greenbrier River and heads up some 4 miles north and east of the farm. It is one of Greenbrier County's most important drainage basins. Muddy Creek begins its journey at Piercy's Mill Cave where the waters of Sinking Creek exit the huge underground cave system (some estimate 20 miles coursing underground). The creek drains tens of thousands of acres on its twisting and curving 20-mile long trip through cattle and sheep farms, steep mountain canyons, bottomland forests, wetlands and marshes before ending its trip at Alderson where it enters the Greenbrier River. From there, the Greenbrier flows to the New River, to the Kanawha, onto the Ohio, then the Mississippi and terminating in the Gulf of Mexico. It is said that the waters of Muddy Creek will arrive in the Gulf of Mexico 3 to 4 days after entering the Greenbrier River.
CREEKSIDE WILDLIFE – There are many animals that live year round and at other times in the water and around the edges of Muddy Creek, including beavers, otters, minks, raccoons, opossums, blue herons, Canada geese, wood ducks, mallards, king fishers, minnows, native fish, turtles, salamanders, newts, crayfish, muskrats, bull frogs, eagles, owls, hawks and redwing blackbirds.
The miles of "edge effect" benefit all the resident wildlife. In addition to those listed above, white tail deer, black bear, wild turkey, squirrel, rabbit, bobcat, fox, chipmunk, and many species of songbirds make up the resident wildlife population along the creekside.
Of equal importance, there is the insect and microscopic world including butterflies, dragonflies, water skaters, water beetles, damselflies, hellgrammites, tadpoles and various insect larve.
FOREST/TIMBER RESOURCES
The abundant timber resource, consisting of about 80 acres, has some current timber value as well as value appreciation over the coming decades. With an attractive species mix, adequate stocking levels, and favorable diameter class distribution, the timber amenity represents a strong component of value to the investor.
The property's forest resource is composed of quality Appalachian hardwoods and Eastern Red Cedar. This timber resource can provide a great deal of flexibility to the next ownership in terms of potential harvest revenue and could be managed to provide cash flow opportunities to offset holding cost and long-term asset appreciation. Capital Timber Value of the timber and pulpwood has not been determined at this time but is considered substantial.
The forest's predominately well-drained upland terrain has led to a resource dominated by hardwood species. Overall, the species composition is highly desirable and favors Appalachian hardwood types, consisting primarily of Black Walnut, Sugar Maple, Poplar/Basswood, Red Oak Group, White Oak/Chestnut Oak, Soft Maple, Hickory, and a host of associated species (ash, cedar, birch, sourwood, black gum, beech).
Forest-wide, most stands are adequately stocked, providing the next ownership with a great deal of flexibility in shaping their own silvicultural legacy. Stem quality forest-wide can be considered excellent.
The property's timber component has been well managed over the years and consists of stands of differing age classes. The predominant timber stand contains 30-140-year-old stems ranging in size of 10"-40" dbh.
Diameters are well represented across the commercial spectrum with a notable mature size class, as well as abundant pole size timber and growing stock. Several "Heritage Trees" are scattered throughout the forest and old field edges. These ancient trees, some 200-300 years old, have withstood the test of time, weathering ice, wind, lightning strikes and fire.
The forest is healthy and there are no signs of pest infestations of Gypsy Moth. The Emerald Ash Borer, which has inundated the entire Northeast US, is present and the Ash component will significantly decline over the next decade. The Eastern Hemlock species is under siege by the Hemlock Wooly Adelgid and the hemlock will significantly decline over the coming decade. There have been no forest fires in recent memory.
The forest floor is home to several types of mushrooms, medicinal plants, wild ginseng, ferns and cool green mosses.
There are several fruit trees scattered about. Crops of black walnuts and hickory nuts are produced each year from the abundant black walnut and hickory trees scattered about.
Honeybees would do well here, and it would be possible to produce maple syrup from the sugar and red maple trees growing on the property.
FOREST FARMING
The most common crops are medicinal herbs and mushrooms. Other crops that can be produced include shade-loving native ornamentals, moss, fruit, nuts, other food crops, and decorative materials for crafts. These crops are often referred to as special forest products.
Here are some specific examples of crops in each category that are currently being cultivated:
Medicinal herbs: Ginseng, goldenseal, black cohosh, bloodroot, passionflower, and mayapple
Mushrooms: Shiitake and oyster mushrooms
Native ornamentals: Rhododendrons and dogwood
Moss: Log or sheet moss
Fruit: Pawpaws, currants, elderberries, and lowbush blueberries
Nuts: Black walnuts, hazelnuts, hickory nuts, and beechnuts
Other food crops: Ramps (wild leeks), maple syrup, and honey
Plants used for decorative purposes, dyes, and crafts: Galax, princess pine, white oak, pussy willow branches in the spring, holly, bittersweet, and bloodroot and ground pine (Lycopodium)
AGRICULTURAL RESOURCES
The property had been a working farm since the 1800's until recent years. The farm's 107-acres consist of about 27 acres of pasture and/or cropland. The balance of the farm contains timberland of varying age classes.
Several acres of overgrown fields could be cleaned up and a brought back into agricultural production.  There is some perimeter fencing in place.
SELF-SUSTAINING LIFE OFF THE GRID
Just like 200 years ago, when the first mountaineers settled the area, the property would be self-sustaining in times of necessity – even without electricity.
Fresh water for drinking and cooking would come from springs and drilled water wells (hand drawing water from the wells using a cylinder well bucket).
The creek and forest would provide fresh food (fish, deer, and turkey).
The agricultural land's flat to rolling topography would be used to raise livestock of all kinds (chickens, pigs, cows, sheep, goats, rabbits etc.) and could be farmed with horse drawn equipment. The land would support vegetable gardens, berry patches, fruit orchards, and row crops of corn, oats and barley.
Beehives would provide honey and beeswax for candles.
The forest would provide firewood for heating and cooking, lumber for building, basket splints, maple syrup and pounds of nuts (walnuts, beechnuts and hickory nuts).
WILDLIFE
Early on, management goals promoted overall wildlife health, facilitated the harvest of game, developed wildlife viewing areas, increased carrying capacity, and increased species diversity. Years of progressive wildlife management practices have created the ideal wildlife preserve.
Muddy Creek, the Greenbrier River, and New River are major contributors to the local ecosystem richness and diversity for both plants and animals. Muddy Creek and the surrounding aquatic plant life create a water supported community with a wide variety of wildlife. Some of the margins of the creek are fringed by wetlands, and these wetlands support the aquatic food web, provide shelter for wildlife, and stabilize the shore of the creek and banks downstream. The plant life associated with the wetland includes rushes, sedges, cattails, duckweed and algae.
There are many animals that live year round and at other times in the water and around the edges of Muddy Creek including beavers, otters, minks, raccoons, opossums, blue herons, Canada geese, wood ducks, mallards, minnows, native fish, turtles, salamanders, newts, crayfish, muskrats, bull frogs, eagles, hawks and redwing blackbirds.
There is the insect and microscopic world including butterflies, dragonflies, pond skaters, water beetles, damselflies, tadpoles and various insect larvae.
The diverse tree species, coupled with the abundant water supply from the ponds and creeks, creates the perfect wildlife habitat. The miles of "edge effect" created between farm fields, creeks, hollows, ridges, and rock outcrops benefit all the resident wildlife. Bald eagles, white tail deer, black bear, wild turkey, squirrel, rabbit, bobcat, raccoon, fox and many species of songbirds, owls and raptors make up the resident wildlife population.
The hardwood forest provides the essential nutrient source and produces tons of hard mast including acorns, hickory nuts, beech nuts and black walnuts. Soft mast includes stag horn sumac, black cherry, tulip poplar seeds, maple seeds, autumn olive berries and blackberries.
RECREATION
The property offers unparalleled recreational opportunities. Numerous soft recreational activities are anchored by the nearby Greenbrier River, New River, New River Gorge National River Park and the 2000-acre Bluestone Lake.
Water-sports enthusiasts will find the nearby Greenbrier River, New River and Bluestone Lake ideal for swimming, canoeing, fishing, kayaking, tubing, snorkeling, paddle boarding and windsurfing. Great fishing is found for small and large mouth bass, crappie, catfish, muskie, walleye, pike and bluegill.
Nature viewing is next in line of recreational activities. Wildlife viewing is not just for larger animals. Equal consideration is given to a diversity of species including neo-tropical songbirds, butterflies, turtles, frogs, rabbits, chipmunks, dragonflies, owls, eagles and hawks. White tail deer, black bear, red/gray fox, bobcat, wild turkey, grouse, geese, squirrel, raccoon, fox and rabbit make up the resident wildlife population.
Stargazing-Planet Observation
Near total darkness can be still be found on the property, thereby affording the opportunity to view the night sky in all its brilliant wonder.
Shooting-sports devotees find all the land and privacy needed to enjoy:
Paintball-Airsoft-Laser Tag-Archery tag
Shotgun sport shooting including Skeet, Trap, Double Trap and Sporting Clays
Rifle & Handgun shooting: bullseye, silhouette, western, bench rest, long-range, fast draw
Archery and Crossbow competition shooting
22 single shot rifle and a few tin cans make a fun day
All Terrain Motorsports
The property is perfect for experiencing the property from an ATV or UTV. Riders are welcome to ride all public roads that do not have a painted dividing line and there are miles and miles of open roads in the area. These exciting machines handle the wide variety of the forest's terrain.
Dirt bikes can also be a lot of fun and they come in all sizes and horsepower to fit anyone who enjoys being on two wheels.
Mountain Biking, Horseback Riding and Hiking
The land may be used for mountain biking, hiking or horseback riding and the area offers several state and national parks geared for these activities.
WATER
Muddy Creek, a blue-line stream with regular water flow, forms the northwestern boundary of the property for about ½ mile, and, also, flows within the property for about ¼ mile.
MINERAL RESOURCES
A title search for mineral rights ownership has not been conducted. All rights the owner has will convey with the property.
BOUNDARIES AND SURVEY
The whole tract of which the sale area is a portion was surveyed in 1996. The owners' deed contains the metes and bounds description prepared from that survey. The sale area will be separated from the whole tract by survey. The property is being sold by the boundary and not by the acre.
UTILITIES
Water: well could be drilled
Sewer: private septic could be installed
Electricity:  available nearby
Telephone: available nearby
Internet: Satellite or cellphone coverage
Cellphone Coverage: Coverage is good in most place with 4G
ACCESS/FRONTAGE
The property has over ¼ mile of frontage on Spring Valley Road RT 31. The property road connects to Spring Valley Road within that frontage.
ZONING
Greenbrier County is subject to some zoning and subdivision regulations. All prospective buyers should consult the County Commission and also the Health Department for details regarding zoning, building codes and installation of septic systems.
Information can be found at the county website: http://greenbriercounty.net/ordinances.
PROPERTY TYPE/USE SUMMARY
The property has been used as farm fields and forestland. The property has a total of about 27 acres in fields. Some invading brush growth could be cleared to restore the fields to full pasture or other field use. There are about 80 acres of forest and woodland.
(This summary is an estimation of current property use as determined from aerial photography. It is made subject to the estimation of property boundaries and any errors in the interpretation of land use type from the aerial photography utilized.)
DEED AND TAX INFORMATION
Deed Information: Part of the tract in DB 626 Pg. 656
Greenbrier County, West Virginia
Acreage: 73 acres +/- to be determined by survey
Real Estate Tax ID/Acreage/Taxes:
Greenbrier County (13), West Virginia
Blue Sulphur District (3)
Tax Map 23 Parcel 11; Class 3
2022 Real Estate Taxes: $1638.54 for the whole tax parcel of which the sale area is a portion.
SURROUNDING AREA
Lewisburg, which is the Greenbrier County seat, was voted the Coolest Small Town in America, combining the warmth of a close community with the sophistication of more urban locations. The thriving downtown historic district offers year-round live productions presented at the State Professional Theatre of WV, Carnegie Hall, distinctive dining venues, antique shops, award-winning galleries/boutiques, a year-round farmer's markets. Greenbrier Valley Medical Center is a modern hospital and all attendant medical facilities, along with the many big box stores.
The county and city host several fairs & festivals throughout the year including The WV State Fair, a professional 4-weekend Renaissance Festival, Chocolate Festival, Taste of our Town Festival (TOOT), antique car shows, Jeep Rally, Airstream Rally, WV Barn Hunt Competition, PGA Tour @ The Greenbrier Resort, and numerous fun parades.
Lewisburg is the home to the Greenbrier Country Public Library, a fantastic, ultra-modern public library that is open 7 days a week. The library's services include: Reading Areas, References, Notary Public, Local History Room, Tax Forms, Fax Service, Photo Copies, Digital Printing, Inter Library Loans, Internet/Computer Access, Audio Books, eBooks, Story Hour, Video & DVD's, Paperback Book Exchange, Literacy Tutoring, Databases, Computer Classes, Book Discussions, Children's Programming and an Online Catalogue.
Lewisburg is also home to the modern Robert. C Byrd Medical Clinic (300 employees), the WV Osteopathic Medical School (600 students) and the New River Community and Technical College. The area is a strong economic generator with a solid workforce employed in county/state government, tourism, hospitality, medical, education, retail, construction, wood products, mining and agriculture.
The world-renowned Greenbrier Resort, with 800 rooms and 1600 employees, is located in the sleepy little town of White Sulphur Springs. The 4-Star resort has a subterranean casino and is home to the PGA tour, NFL Summer Practice Event, Tennis Exhibitions (Venus Williams, John McEnroe etc.). Several other area golf courses are available in the area – including Oakhurst Links, America's first golf course, where guests play using old style hickory-handled clubs and ground-burrowing golf balls.
A picturesque train ride from White Sulphur Springs connects the area to DC, Philadelphia, Chicago, and many other locations. By car, DC is 4 hours away and Charlotte is only 4.
Within a two-hour's drive are located some of the finest recreational facilities in West Virginia. Winterplace Ski Resort, whitewater rafting / fishing on the New River and Gauley River, 2000-acre Bluestone Lake, Pipestem State Park and Resort and the 80,000-acre New River National Gorge National Park. Five other area state parks and state forests offer unlimited hiking, horseback riding, ATV riding and rock climbing opportunities. Snowshoe Ski Resort is 90-minute drive through some of the most scenic country on the East Coast. The new 12,000-acre Boy Scout High Adventure Camp and home to the US and World Jamboree is an hour's drive.
GREENBRIER RIVER
At 162 miles long, the Greenbrier is the longest untamed (unblocked) river left in the Eastern United States. It is primarily used for recreational pursuits and well known for its fishing, canoeing, kayaking and floating opportunities. Its upper reaches flow through the Monongahela National Forest, and it is paralleled for 77 miles by the Greenbrier River Trail, a rail trail which runs between the communities of Cass and North Caldwell.
It has always been a valuable water route, with the majority of the important cities in the watershed being established river ports. The river gives the receiving waters of the New River an estimated 30% of its water volume. Over three-fourths of the watershed is an extensive karstic (cavern system), which supports fine trout fishing, cave exploration and recreation. Many important festivals and public events are held along the river throughout the watershed.
The Greenbrier is formed at Durbin in northern Pocahontas County by the confluence of the East Fork Greenbrier River and the West Fork Greenbrier River, both of which are short streams rising at elevations exceeding 3,300 feet and flowing for their entire lengths in northern Pocahontas County. From Durbin the Greenbrier flows generally south-southwest through Pocahontas, Greenbrier and Summers Counties, past several communities including Cass, Marlinton, Hillsboro, Ronceverte, Fort Spring, Alderson, and Hinton, where it flows into the New River.
Along most of its course, the Greenbrier accommodated the celebrated Indian warpath known as the Seneca Trail (Great Indian Warpath). From the vicinity of present-day White Sulphur Springs, the Trail followed Anthony's Creek down to the Greenbrier near the present Pocahontas-Greenbrier County line. It then ascended the River to the vicinity of Hillsboro and Droop Mountain and made its way through present Pocahontas County by way of future Marlinton, Indian Draft Run, and Edray.
GREENBRIER RIVER TRAIL
The 77-mile-long Greenbrier River Trail State Park is operated by the West Virginia State Parks and is a former C&O railroad grade now used for hiking, bicycling, ski-touring, horseback-riding, and wheel-chair use. The trail passes through numerous small towns and traverses 35 bridges and 2 tunnels as it winds its way along the valley. Most of the trail is adjacent to the free-flowing Greenbrier River and is surrounded by peaks of the Allegheny Mountains.
THE NEW RIVER AND BLUESTONE LAKE
The property is located in the heart of the recreational mecca area. The New River Gorge was a vast and largely unsettled wilderness until the C&O railroad was built on the eastern side of the river in the 1880's. The railroad opened up the rich coalfields and virgin timber stands of the region. Early "mountaineers" settled the area and soon were carving out mountain farms and raising families.
The New River is the second oldest river in the world, preceded only by the Nile; it is the oldest river in North America. The New River is unique because it begins in Blowing Rock, N.C. and flows north through Virginia into West Virginia. The Nile and Amazon are the only other major rivers that also flow north. Year after year, it produces more citation fish than any other warm water river in WV. Smallmouth bass, largemouth bass, crappie, catfish, sunfish, hybrid striped bass, and muskie are all common species of fish found in the New River and Bluestone Lake.
Bluestone Lake is over 2000 acres at summer pool and is the state's third largest body of water. Great hunting and fishing opportunities abound at the 17,632 acre Bluestone Wildlife Area adjacent to the park and nearby Camp Creek State Forest.
SCHOOLS
Greenbrier County School District
Public Elementary Schools:
Alderson Elementary School
Lewisburg Elementary School
Public Middle School:
Eastern Greenbrier Middle School
Public High School:
Greenbrier East High School
Colleges:
New River Community and Technical College (Lewisburg campus)
West Virginia School of Osteopathic Medicine
Private Schools:
Greenbrier Community School (PK-8)
Greenbrier Valley Academy (2-8)
Lewisburg Baptist Academy (PK-12)
Renick Christian School (2-7)
Seneca Trail Christian Academy (PK-12)
DIRECTIONS
From I-64 Alta Alderson Exit 161: 6.3 miles +/- (approximately 10 minutes)
From the I-64 Alta Alderson Exit 161; turn onto RT 12 South toward Alderson; travel 3.9 miles; turn right onto Spring Valley Road RT 31; travel 2.4 miles; the property road entrance is on the right.
From Alderson, WV: 9.8 miles +/- (approximately 15 minutes)
From the intersection of RT 63 and RT 12 near the Subway Restaurant, travel RT 12 North for 7.4 miles; turn left onto Spring Valley Road RT 31; travel 2.4 miles; the property road entrance is on the right.