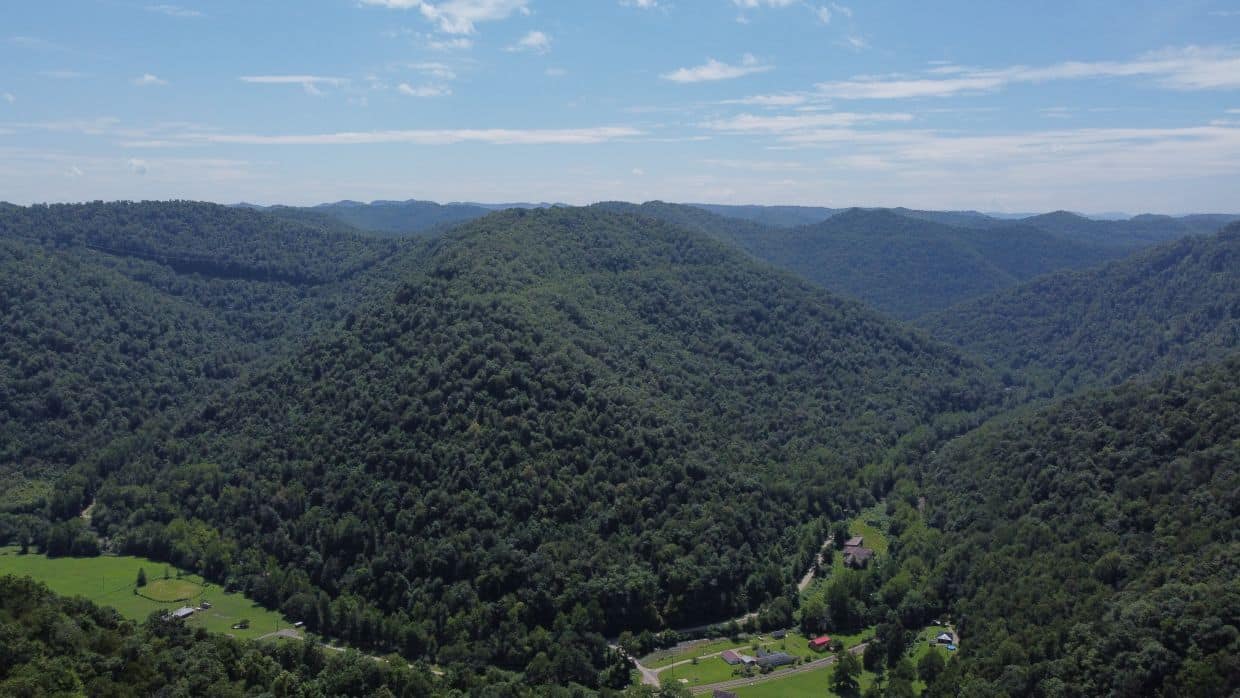 Price:

$77,000

ID:

935

Acres:

73.67 +/-

Address:
Agent Contact:
Neal Roth, 304.667.3794
OVERVIEW
Twentymile Creek Forest is a great recreation property located near the major rivers of West Virginia.  Want to build your get-a-way cabin and hunt out the backdoor, look at this property!
ATTRIBUTES AND HIGHLIGHTS
73.67 +/- acre with mineral and surface ownership
The New, Gauley, Kanawha and Elk Rivers are less than a 25 minute drive
The Summersville Lake and Wildlife Management are encompasses over 6,000 acres and is only 45 minutes away
15 minutes to Gauley Bridge, WV confluence of the New and Gauley Rivers to form the Kanawha River
This property has an existing trail network throughout the property
2-hours to the Hatfield-McCoy Trail network
Just over 30 minutes to Fayetteville, gateway to the New River Gorge National Park and world class whitewater rafting
Less than an hour to Charleston, WV: State Capital and major shopping/dining area
Surrounded by timber tracts in a nice rural area
Superior access adjoining state road – FedEx/UPS/USPS delivery
Located near the Nicholas/Fayette County line
Many very ancient "Heritage" trees scattered about the forest estimated at 100-200 years old
Over 4,000 feet of frontage on Twenty Mile Creek Road
Electricity and telephone along Twenty Mile Creek Road with limited cellular coverage
Public water is across WV Route 20/21-Twenty Mile Creek Road from property
Wildlife is very abundant with deer, turkey, bobcat, coyote, fox, rabbit, squirrel
Winged wildlife includes eagles, hawks, grouse, turkey, owls, ravens, and Neotropical songbirds
LOCATION
Google Coordinates: LAT 38.261499 (N), LON -81.156168 (W)
Address: Twenty Mile Creek Road, Belva, WV 26656 (WV does not have 911 address' for properties without a residence)
Elevation Range: 740' to 1440'
DIRECTIONS
Starting at the Belva, WV 26656 US Post Office, go west on WV-39 toward First Street for 0.3 miles.  Turn right on WV16 North for 0.8 miles.  Turn right on County Route (CR) 16/3 Twenty Mile Creek Road travel 0.3 miles and CR 16/3 becomes CR 20/21.  Travel 2.6 miles, property starts on east side of CR 20/21 Twenty Mile Creek Road and continues for next 0.8 miles.
MINERAL RESOURCES
West Virginia is one of the states in the US that has two separate ownership titles; those being SURFACE RIGHTS and MINERAL RIGHTS. The mineral rights are believed to be intact and all rights the owner has will convey with the property. A mineral title search could be conducted by a title attorney at the same time when the surface title search is being conducted.
BOUNDARIES AND SURVEY
The property is being sold by the boundary and not the acre.
ACCESS/FRONTAGE
Property has over 4000' of frontage on east side of Twenty Mile Creek Road (WV 20/21).  Access is by foot travel only, vehicle may be parked at gas well site on property or at intersection of Twenty Mile Creek Road (WV20/21) and Backus Branch Road (WV 20/2).
UTILITIES
Water: Public water across WV 20/21
Sewer: Private septic system could be developed
Electricity: Along WV 20/21
Telephone: Along WV 20/21
Internet: Available through telephone provider or Satellite companies
Cellphone Coverage: Limited
ZONING
Nicholas County has no zoning regulations in effect other than that which is enacted and enforced within the city limits of Summersville and Richwood.
As of April 1994 Nicholas County was reinstated into the National Flood Insurance Program. Therefore, any person undertaking new construction, substantial improvement, the placement of relocation of any structure (including manufactured homes), will need to apply for a permit with the Nicholas County's Flood Plain Administrator to decide if location is within a flood plain.
A permit is also required from the Nicholas County Health Department for septic systems.
PROPERTY TYPE/USE SUMMARY
The property consists of various ages of forestland.  There has been surface mining in the past on the top ridge on northeast corner of the property.
DEED and TAX INFORMATION
Will Book Information: WB 33 Page 312
Acreage: 73.67+/- Acres
Real Estate Tax ID/Acreage/Taxes:
Nicholas County, West Virginia
Jefferson District
Tax Map18 Parcel 21.0
2021 Real Estate Taxes: $510.80
PUBLIC SCHOOLS
Due to the close proximity of Nicholas and Clay County in this area, there are several options for public education
Nicholas County School District
Summersville Elementary School
Summersville Middle School
Nicholas County High School
Clay County School District
Clay Elementary School
Clay Middle School
Clay County High School
College/University
New River Community and Technical College (Nicholas County campus)
Bridge Valley Community and Technical College (Montgomery campus)
West Virginia Tech – Beckley
West Virginia State – Charleston
RECREATION AT/NEAR TWENTYMILE CREEK FOREST
Twentymile Creek Forest offers many recreational opportunities. Numerous soft recreational activities are anchored by the proximity to the recreation mecca of the New, Gauley, Kanawha and Elk Rivers as well as the New River Gorge National Park and Gauley River National Recreation Area.
Nature viewing – Attentive wildlife management has been geared not just too game animals. Equal consideration has been extended to increasing the numbers and diversity of species including neo-tropical songbirds, butterflies, turtles, frogs, rabbits, chipmunks, dragonflies, owls, hawks.
Water-sports enthusiasts will find the nearby New River, Gauley River, Kanawha River and Elk River ideal for swimming, canoeing, fishing, kayaking, tubing, snorkeling, paddle boarding and windsurfing. These rivers and the 2700 acre Summersville Lake and 250 acre Hawks Nest Lake are all within an easy 45-minute drive. Great fishing is found in these rivers and lakes. Species include small and large mouth bass, crappie, catfish, muskie, walleye, pike and bluegill.
All Terrain Motorsports
Twentymile Creek forest has several forest trails that are perfect for experiencing the property from an ATV or UTV. These exciting machines handle the wide variety of the forest's terrain.  Dirt bikes can also be a lot of fun and they come in all sizes and horsepower to fit anyone who enjoys being on two wheels.
Mountain Biking and Hiking
Along with ATV riding, existing forest trails may be used for mountain biking or hiking.
Hunting is a first-class experience. White tail deer, black bear, red/gray fox, bobcat, wild turkey, grouse, squirrel, raccoon and fox make up the resident wildlife population. The property has a great mix of wildlife.
FOREST/TIMBER RESOURCES
The Property's timber resource is composed of a mixed size, Appalachian hardwoods. The forest's predominately well-drained upland terrain has led to a resource dominated by hardwood species.
Several "Heritage Trees" are scattered throughout the forest. These ancient trees, some 100-200 years old, have withstood the test of time, weathering ice, wind, lightning strikes and fire.
The forest floor is home to several types of mushrooms, medicinal plants, wild ginseng, ferns and cool green mosses.
FOREST AND CARBON SEQUESTRATION
Forests sequester carbon by capturing carbon dioxide from the atmosphere and transforming it into biomass through photosynthesis. Sequestered carbon is then accumulated in the form of biomass, deadwood, litter and in forest soils.
On average, one acre of new forest can sequester about 2.5 tons of carbon annually. Young trees absorb CO2 at a rate of 13 pounds per tree each year. Trees reach their most productive stage of carbon storage at about 10 years at which point they are estimated to absorb 48 pounds of CO2 per year.
While a typical hardwood tree can absorb as much as 48 pounds of carbon dioxide per year. This means it will sequester approximately 1 ton of carbon dioxide by the time it reaches 40 years old. One ton of CO2 is a lot.
FOREST FARMING
The most common crops are medicinal herbs and mushrooms. Other crops that can be produced include shade-loving native ornamentals, moss, fruit, nuts, other food crops, and decorative materials for crafts. These crops are often referred to as special forest products. Here are some specific examples of crops:
Medicinal herbs: Ginseng, bloodroot, passionflower, and mayapple
Mushrooms: Shiitake and oyster mushrooms
Moss: Log or sheet moss
Fruit: Pawpaws, currants, elderberries, and lowbush blueberries
Nuts: hickory nuts, and beechnuts
Other food crops: Ramps (wild leeks), maple syrup, and honey
Plants used for decorative purposes, dyes, and crafts: white oak, , bittersweet, and bloodroot and ground pine (Lycopodium)
WATER
Twentymile Creek, a perennial (blue line) stream, flows through and beside the property for about 0.8 miles. There are numerous ephemeral branches on the property that feed into Twentymile Creek either directly or by the intermittent streams. There should be frequent water flow in the streams and branches, particularly during rain events and periods of snow melt. Numerous springs are found throughout the property.
SURROUNDING AREA
GAULEY RIVER NATIONAL RECREATION AREA
The Gauley River was added to the National Park System in 1988.  The 25 miles of free-flowing Gauley River and the six miles of the Meadow River pass through scenic gorges and valleys containing a wide variety of natural and cultural features.  Dropping 26 feet per mile through a gorge that averages 500 feet in depth, the Gauley is noted for its outstanding whitewater and is one of the most technical rivers in the nation, contains several class V+ rapids.  The Meadow River gradient averages 71 feet per mile.  The Gauley River and its gorge have been a barrier as well as a corridor for human activity. The area was used for fishing and hunting by Native Americans for 10,000 years and was populated by Europeans in the late 1700s near the mouth of Peters Creek.  The confluence of the Gauley and Meadow rivers was the site of an 1861 Civil War battle. Union troops forced Confederate forces from their position overlooking the Gauley. The site is part of Carnifex Ferry Battlefield State Park.  In the late 1800s railroads and lumber companies came to the gorge to harvest its vast supply of timber.  Coal and gas development followed shortly after are still economic powers in the area.  Vegetation is diverse and abundant. Extremes in topography, elevation and microclimate have caused tremendous variation in plant life. Most of the recreation area is below 2,000 feet and contains the central hardwood forest type. Tree species found in this timber type include the red and white oak, American beech, yellow poplar, hemlock and dogwood. Such vegetation supports a wide variety of wildlife species.
NEW RIVER GORGE NATIONAL PARK AND RESERVE
The Newest National Park in America at your back door…   Just a short 40 minute drive from the property will take you to the amazing New River National Park.  An awe inspiring visit that is sure to bring a new experience each and every time. Once you see it, it's something you'll never forget. Rock climbers have long prized the sandstone cliffs of West Virginia's New River Gorge, which was designated as a national park and preserve in December 2020.  New River Gorge National Park and Preserve is known for its 53 miles of free flowing whitewater that cuts through sandstone cliffs towering as high as 1,000 feet in the air. It boasts class III through V rapids and plenty of boulders to keep even the most experienced rafters engaged. The upper part of the river is calmer and more welcoming to new rafters. The area also boasts more than 1,500 climbing routes, as well as a 12.8-mile system of mountain bike trails built by the Boy Scouts.  There are moments, as you drift through the deep canyon walls of the New River Gorge, when it feels like you've got the whole world to yourself. It's just you and the river, littered with massive, prehistoric boulders that were here when the coal mining camps were built, and the fur trading posts before them, and the Shawnee and Cherokee villages before those. In a river that geologists say could be one of the world's oldest, you can lose yourself in time. Then the current picks up, and you're back to paddling like mad, navigating the chutes and eddies of heart-pounding white water.  Since the 1960s, West Virginia's New River Gorge has drawn adventure seekers to its rapids and rock walls, and those rafters and climbers have long considered it a hidden gem. But the curtain is being drawn back on the canyon, because part of it has become America's 63rd national park. New River Gorge National River's 72,186 acres is just like its name "New".   The Newest National Park and Preserve in America.
HATFIELD-McCOY TRAIL SYSTEM
The HMTS is made up of 1000 miles of trails and located in the rich mountains of southern West Virginia. The 1000 mile HMTS is second only to the 2000-mile-long Paiute ATV Trail in Central Utah.
As one of the largest off-highway vehicle trail systems in the world, HMTS is open 365 days a year and offers something for every skill level. The trail system caters to ATV, UATV, and motorbikes (dirt bikes), but hikers, mountain bikers, and horse riders can also use the trails.  The trail system is a multi-county project, including West Virginia counties Logan, Kanawha, Wyoming, McDowell, Mercer, Wayne, Lincoln, Mingo, and Boone.
The name of the trail system is derived from the names of two families, the Hatfield's and the McCoy's, who famously feuded near the West Virginia and Kentucky border after the Civil War.
Law enforcement officers patrol the trail to assure compliance with safety regulations. Motorized users of the trail system must wear a DOT-approved helmet and are prohibited from "doubling" (having a passenger), unless their vehicle is designed for two people. These rules, and a host of others, have allowed the trail system to enjoy a quality safety record, despite an increase in ATV-related injuries around the country.
SUMMERSVILLE LAKE AND WILDLIFE MANAGEMENT AREA
Superb water quality and sheer sandstone cliffs make Summersville Lake a unique place to visit.  West Virginia's largest lake; Summersville Lake has over 2,700 acres of water and 60 miles of shoreline.  Boating, water-skiing, swimming, fishing for large- and smallmouth bass, walleye, panfish, and catfish, (trout are stocked below the dam in the spring and fall) scuba diving, picnicking, hunting, and biking are the favorite activities enjoyed by nearly one million visitors annually. Technical rock climbing and whitewater rafting are available year round, with scheduled whitewater releases below the dam on the world class Gauley River in September and October.
The 5,974-acre Summersville Lake Wildlife Management Area (WMA) ranges across tableland forests and towering cliffs that famously overlook Summersville Lake. Game traditionally hunted in the management area includes bear, deer, grouse, squirrel, and turkey, though the lake is its principal attraction.
HAWKS NEST STATE PARK AND LAKE
Nestled in the heart of whitewater rafting country near the town of Anstead, Hawks Nest State Park is a 270-acre recreational area with a nature museum, aerial tramway, jetboat rides, hiking trails and one of the most challenging whitewater boating waterways in the nation. Located just 10 miles north of the New River Gorge Bridge, Hawks Nest is known for its scenic overlook, which provides a bird's eye view of the rugged New River Gorge National Park and Preserve below.
Hawks Nest Lake is located in the New River Gorge.  The lake is 250 acres, surrounded by the steep New River Gorge walls.  It is possible to paddle a good ways upstream as the backwaters of the lake stretch a few miles into the gorge.  The lake provides excellent fishing opportunities for other species, including carp, catfish, hybrid striped bass, sunfish, rock bass, channel catfish, largemouth bass, smallmouth bass, spotted bass, and flathead catfish.
KANAWHA RIVER
The Kanawha River (/kəˈnɔːə/ kə-NAW-ə) is a tributary of the Ohio River, approximately 97 miles long. The largest inland waterway in West Virginia, its valley has been a significant industrial region of the state since early in the 19th century.
It is formed at the town of Gauley Bridge in northwestern Fayette County, approximately 35 miles SE of Charleston, by the confluence of the New and Gauley rivers. It flows generally northwest, in a winding course on the unglaciated Allegheny Plateau, through Fayette, Kanawha, Putnam, and Mason counties, past the cities of Charleston and St. Albans, and numerous smaller communities. It joins the Ohio at Point Pleasant.
Paleo-Indians, the earliest indigenous peoples, lived in the valley and the heights by 10,000 BC as evidenced by archaeological artifacts such as Clovis points. A succession of prehistoric cultures developed, with the Adena culture beginning the construction of numerous skilled earthwork mounds and enclosures more than 2000 years ago. Some of the villages of the Fort Ancient culture survived into the times of European contact.
The area was a place of competition among historical American Indian nations. Invading from their base in present-day New York, the Iroquois drove out or conquered Fort Ancient culture peoples, as well as such tribes as the Huron and Conoy. By right of conquest, the Iroquois, Lenape (Delaware), and Shawnee reserved the area as a hunting ground. They resisted European-American settlement during the colonial years. Eventually the settlers took over by right of conquest.
The river valley contains significant deposits of coal and natural gas. In colonial times, the wildly fluctuating level of the river prevented its use for transportation. The removal of boulders and snags on the lower river in the 1840s allowed navigation, which was extended upriver after the construction of locks and dams starting in 1875. The river is now navigable to Deepwater, an unincorporated community about 20 miles upriver from Charleston. A thriving chemical industry along its banks provides a significant part of the local economy.
KANAWHA FALLS
Kanawha Falls is located on the Kanawha River alongside US 60. The falls is only 15′ high, but it is very wide. The falls is broken into a number of distinct sections, depending on the water levels. There is a low dam above the falls. Unless you have a boat, you will have to settle for distant views of most of the falls. You can get somewhat close to the western edge of the falls, where an old power plant is located
The falls is located right along US 60, about a mile west of Gauley Bridge, and about 21 miles east of I-64/77. There is a well signed park with ample parking right in front of the falls. You can launch a boat here if you have one. The site is popular with fishermen.